Autocross is the most entry-level form of sports car racing and has taken place all over the world since the 1950s. Participants simply drive as fast as possible one at a time against the clock on a twisty course laid out with cones in a parking lot or on an airstrip. This safe, affordable, and fun activity is intended to encourage development of car control skills at real-world speeds. We have held autocrosses in Virginia since the late 1990s mostly with NASA Mid-Atlantic at Virginia Motorsports Park. We usually run a two-group/four-heat format for about 80 drivers a day with a lunchtime course change. Our autocrosses are open to any street licensed driver in nearly any stock or modified street or race car that will pass a basic safety inspection, utilizing a classification system designed to produce close competition. Entry fees are very affordable for a day of safe, legal, ticket-free driving fun. Please join us! Click here:
Live timing link – click here: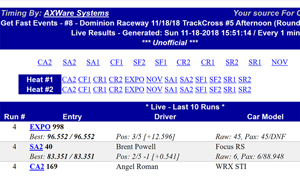 UPCOMING EVENTS

Sat Feb 18 2023 @ VMP, Event #2
Championship Rounds 3 & 4 – click here to register
RESULTS

12/17/22 – Round 1 AM: all times by class / by fastest overall
12/17/22 – Round 2 PM: all times by class / by fastest overall

CHAMPIONSHIP POINTS
please check back later

ENTRY FEES
AM & PM Runs with work assignment – $60mem/$65non pre-reg or $80 waiting list/day-of
AM & PM Runs WITHOUT work assignment (limited avail) pre-reg only – $125mem

DAILY SCHEDULE 
7:00a – registration & tech
8:00a – drivers meeting/novice meeting
est 8:45a – heat A on course 1, heat B drivers work
est 10:30a – heat B on course 1 heat A drivers work
12:00p – lunch/course reset
1:00p – heat C on course 2 (heat A drivers again), heat D drivers work
est 3:00p – heat D on course 2 (heat B drivers again), heat C drivers work

MORE INFO
*UPDATED* Autocross Frequently Asked Questions – click here
Eligibility: All drivers and passengers should be at least 18 years old with a valid drivers license.
Licensed under-18 drivers may be allowed on a case-by-case basis, please inquire.
Helmets: Must have Snell M2010/SA2010 or newer rating and be in good condition. Rental helmets are available directly from OG Racing in advance.
Tech Inspection: click here for the form you need to print/fill out/bring.
Car Classing: please click here for our car classing details page.
Weather: These events will take place "Rain, Shine, Hot or Cold" but may be rescheduled or paused for more significant weather.
Cancellation: All sales final – no cancellation, refund, or credit. Entry is transferrable to another person for that event only and must be done by noon on the Tuesday prior for a Saturday event or noon on the Wednesday prior for a Sunday event.
Work Assignments: Every entrant is expected to work at least one heat (start, grid, timing, course/cones) when they're not driving. We need additional help with registration and tech, that can get you an entry fee discount – please inquire.
>>> *UPDATED* Autocross Frequently Asked Questions – click here <<<
Please contact Jon Felton for more info. Thank you!