We are happy to bring back our warm weather series using various parts of racetrack at Summit Point Motorsports Park for the 6th time! Each date will be two half-day higher speed autocrosses without cones on different courses for two heats each. There are no work assignments (unless you choose that option for a discount) and registration will be limited so everyone gets plenty of runs. The wet skidpad will be open, touring laps during lunch will be available, and we will have a championship series with winners at the end!Most street or race cars are welcome but must pass a safety tech inspection (click here for the tech form.) Car classing is basic: Street or Competition (based on tires and modifications), FWD or RWD or AWD, under 2.5L NA or over 2.5L/all FI. Or Novice class of course – these events are great for first timers. There is no cheaper or easier way to run for times on a real road course!
Live timing link – click here: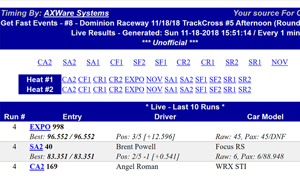 UPCOMING EVENTS

Sat May 13 @ Jefferson
Rounds 1 & 2 – click here

Sat Jul 22 @ Shenandoah
Rounds 3 & 4 – click here

RESULTS
please check back later


CHAMPIONSHIP POINTS
please check back later
ENTRY FEES
AM & PM Runs w/o work assignment – $170 pre-reg or $200 waiting list/at track
AM & PM Runs WITH work assignment (limited avail) pre-reg only – $85
Optional Practice Runs (if offered, double your track time) – $85
Skidpad Session in Crown Victoria w/instruction – $50
Lunch Touring Lap Session – $20/car

DAILY SCHEDULE 
7:00a – registration & tech
8:00a – drivers meeting
est 8:45a – heat A on course 1
est 10:30a – heat B on course 1
12:00p – lunch/touring laps
1:00p – heat C on course 2 (heat A drivers again)
est 2:30p – heat D on course 2 (heat B drivers again)

MORE INFO
 *UPDATED* Trackcross Frequently Asked Questions – click here
Eligibility: All drivers and passengers must be at least 18 years old with a valid drivers license.
Convertibles: As per the tech form, rollbars are required unless the car is factory equipped with rollover protection, and it must state such in the manual. Drivers must bring manual and present it at tech. Mazda MX5/Miata, Honda S2000, and Dodge Viper convertibles (among others) all need 4 point roll bars added. All convertibles should pass a "broomstick test" as well. Please inquire before registering if you have any question about the legality of your convertible. Sorry no refunds or credits if you register and/or show up with a convertible that doesn't pass tech.
Helmets: Must have Snell M2010/SA2010 or newer rating and be in good condition. Rental helmets are available directly from OG Racing in advance.
Car Classing: please click here for our car classing details page.
Passengers: TBD per event, limited due to covid restrictions, please inquire
Weather: These events will take place "Rain, Shine, Hot or Cold" but may be rescheduled or paused for more significant weather.
Cancellation: All sales final – no cancellation, refund, or credit. Entry is transferrable to another person for that event only and must be done by noon on the Tuesday prior for a Saturday event or noon on the Wednesday prior for a Sunday event.
Bonus fun: Wet skidpad will be open free of charge for registered drivers in tech inspected cars after lunch. Please don't park in/near the skidpad.
Work Assignments: We usually need a few extra sets of hands to help with tech in the morning then start/grid/timing during each heat. We offer a half-price entry as thanks for your time. Please contact Jon Felton BEFORE REGISTERING to get the worker discount code then sign up for one of the worker spots. Note: no beginners, novices, or first-timers please – must have significant experience from our trackcrosses to get this deal.
The diagram below shows two examples of the many possible course configurations & directions we can run. Each half-day event of the series will be on a different portion of pavement to keep things fun: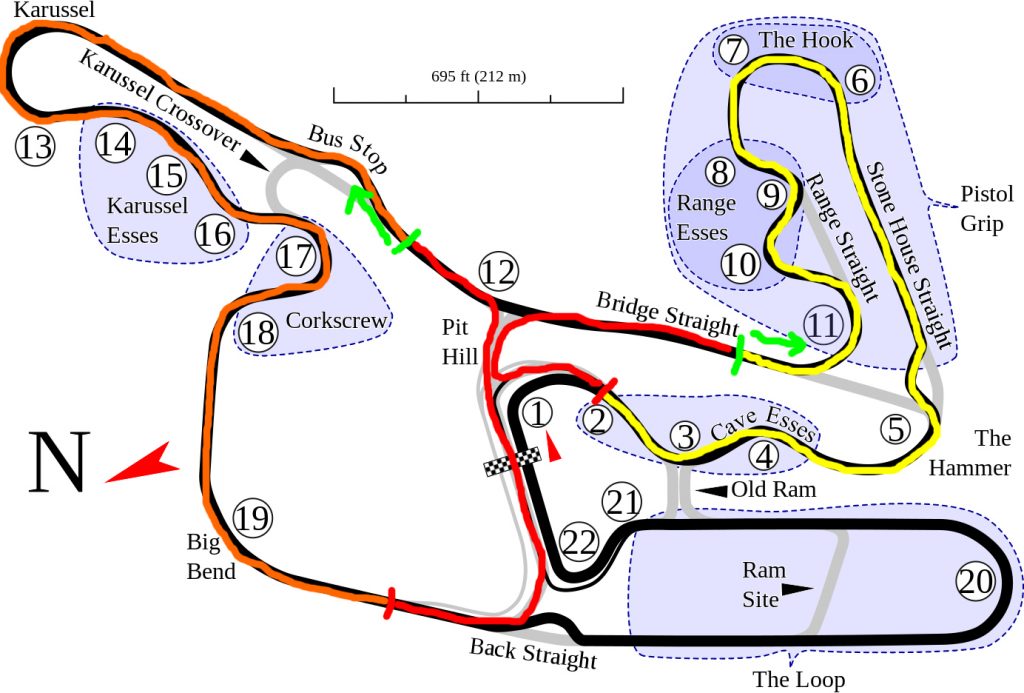 >>> *UPDATED* Trackcross Frequently Asked Questions – click here <<<
2018 Series Results & Championship Points – click here
2019 Series Results & Championship Points – click here
2020 Series Results & Championship Points – click here
2021 Series Results & Championship Points – click here
Please contact Jon Felton for more info. Thanks and see ya there!